Michael J. Guli Designs/ River Crossing Inc.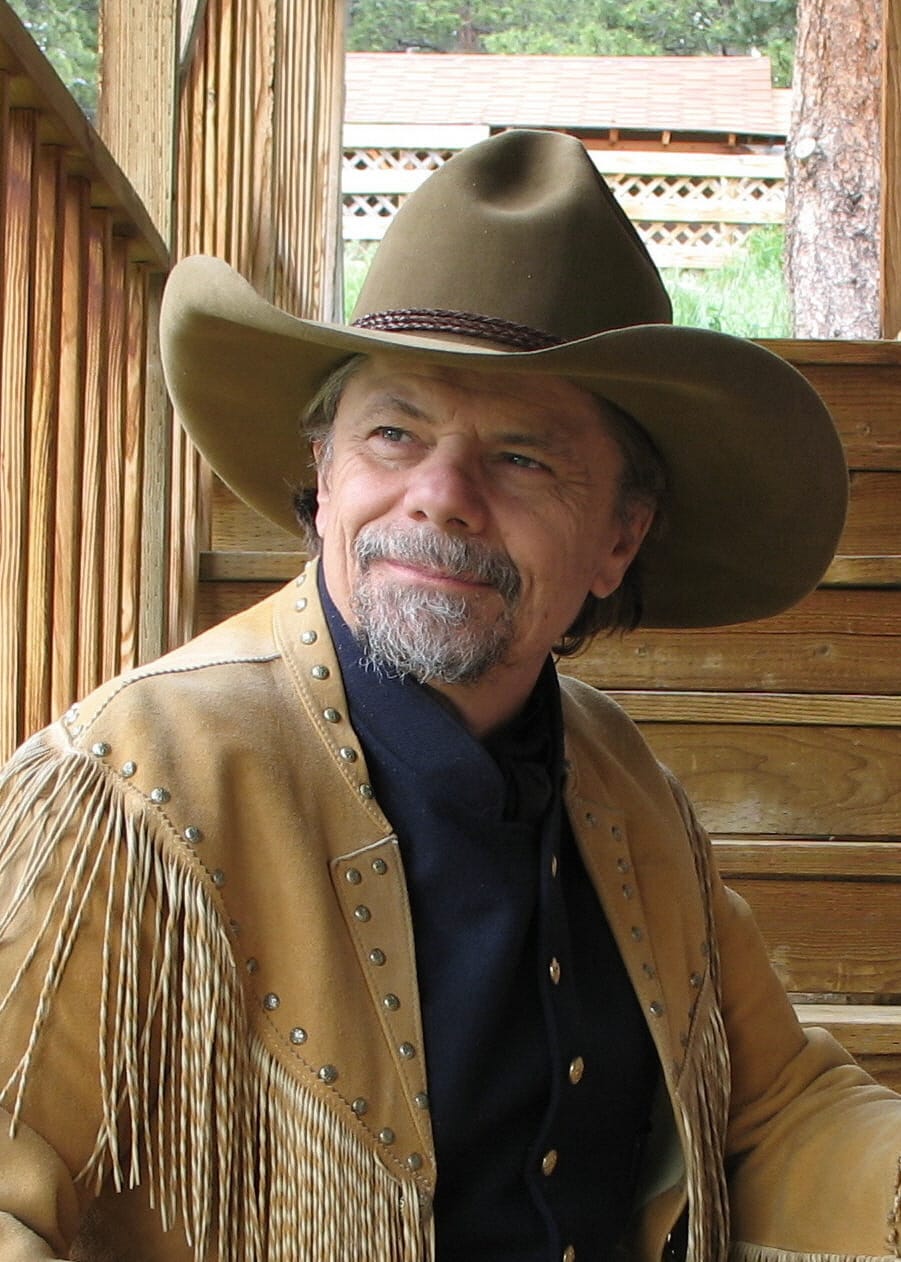 For over 44 years, I have specialized in designing and making historically inspired clothing and accessories, predominantly of deerskin and American bison/buffalo, for movies, performers, museums, and all those who seek quality Old West styles. My background as a professional artist gives my designs a distinction not often found in leather clothing, making them beautiful as well as functional. Honors: Western Design Conference, Jackson, WY 2016 "Best Artist in Leather" 2016 "Sunny Tuttle Spirit Award" 2017 Artist Judge 2018 "Western Spirit Award"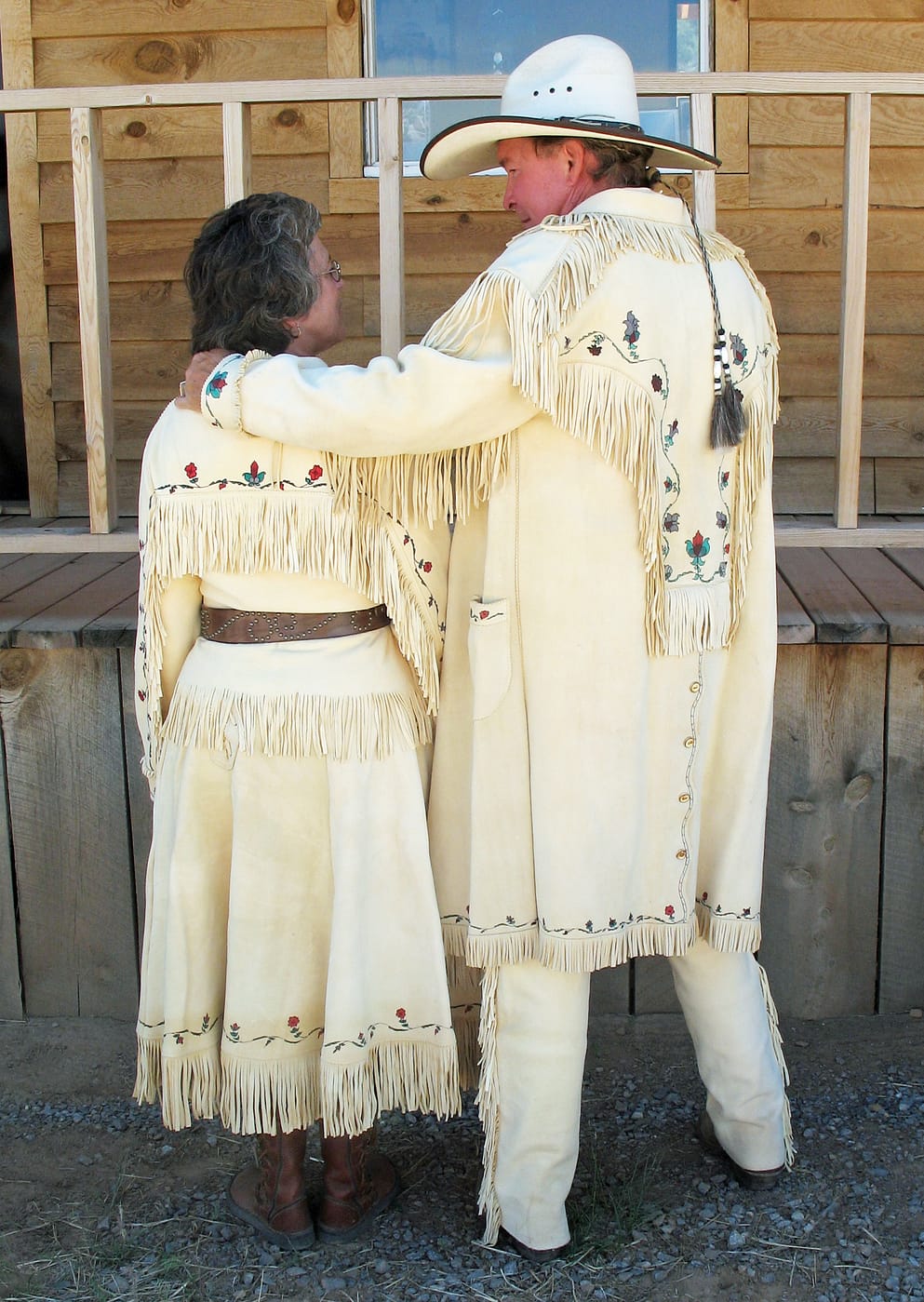 Michael J. Guli Designs/ River Crossing Inc.
Contact Artist for Purchase or Commissions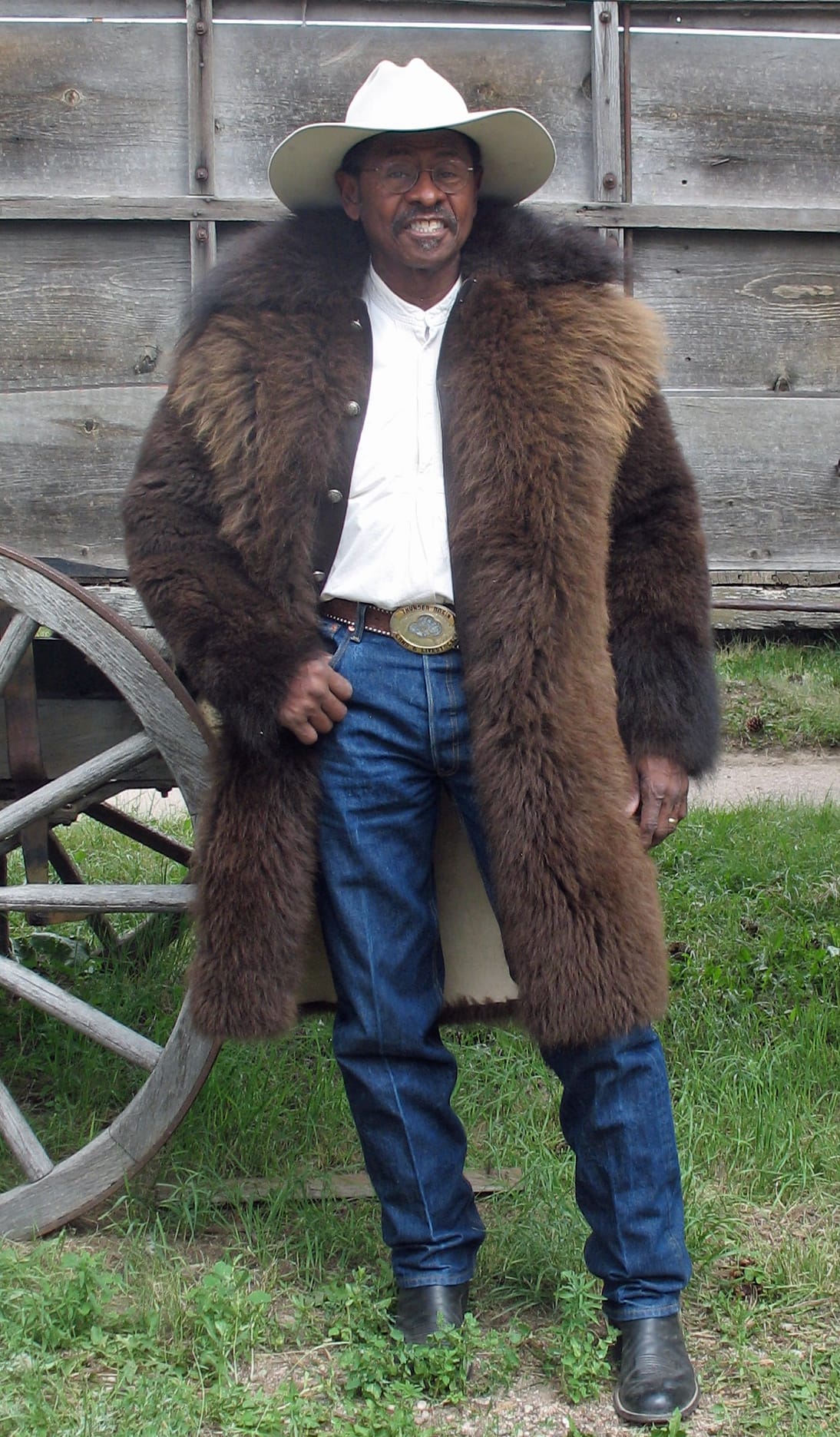 American Bison/Buffalo Coat
Our coats are made of the finest winter American bison/buffalo hide. The longest, thickest fur is used on the collar to provide maximum protection from the weather around your neck. A Michael J. Guli Designs bison coat will not only bring you admiration and awe but will also provide you with the ultimate in warmth and comfort.
$2295
Buckskin-Deerskin Native American Wedding Dress
Our deerskin dresses are influenced by styles worn by women of Native American tribes of the Old West. When making dresses, these women would add beautiful touches of beadwork, painting, and fringe. We make our dresses from the finest deerskin for strength, beauty, and softness. All fringe is hand cut, and we only use glass beads, no plastic! Dresses can be worn belted or loose and are typical of the design worn by Plains Indian tribes. Contact us regarding your own custom details.
$1095
Long Painted Metis Coat
Our leather Metis-influenced coats show the influence of two different worlds, combining the cut and fit of men's European designs with the creative qualities of the Native people, who often decorated their pieces with painted or beaded floral or geometric patterns. Our coats are made of the finest deerskin for durability, comfort, and beauty and are a wonderful example of the artistic interaction of two different cultures.
$1595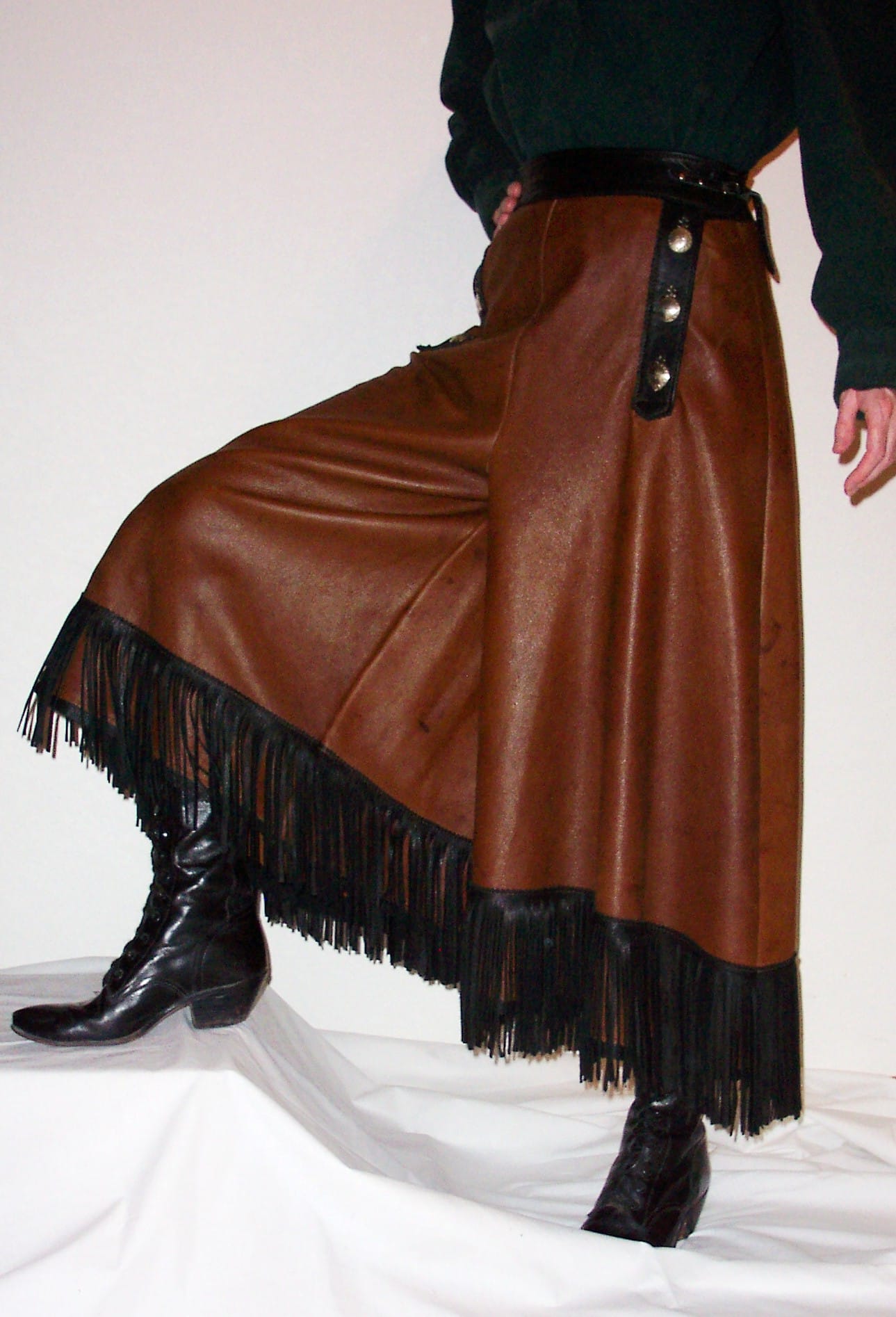 Split Riding Skirt
Beginning in the late 1800's, split skirts were worn by Wild West Show performers and early rodeo performers and contestants. Not only are our split riding skirts decorative, they are practical and afford the rider much needed protection, as well as making a great current fashion statement. Our hand-made skirts are made of high-quality deerskin for comfort, beauty, and durability.
$995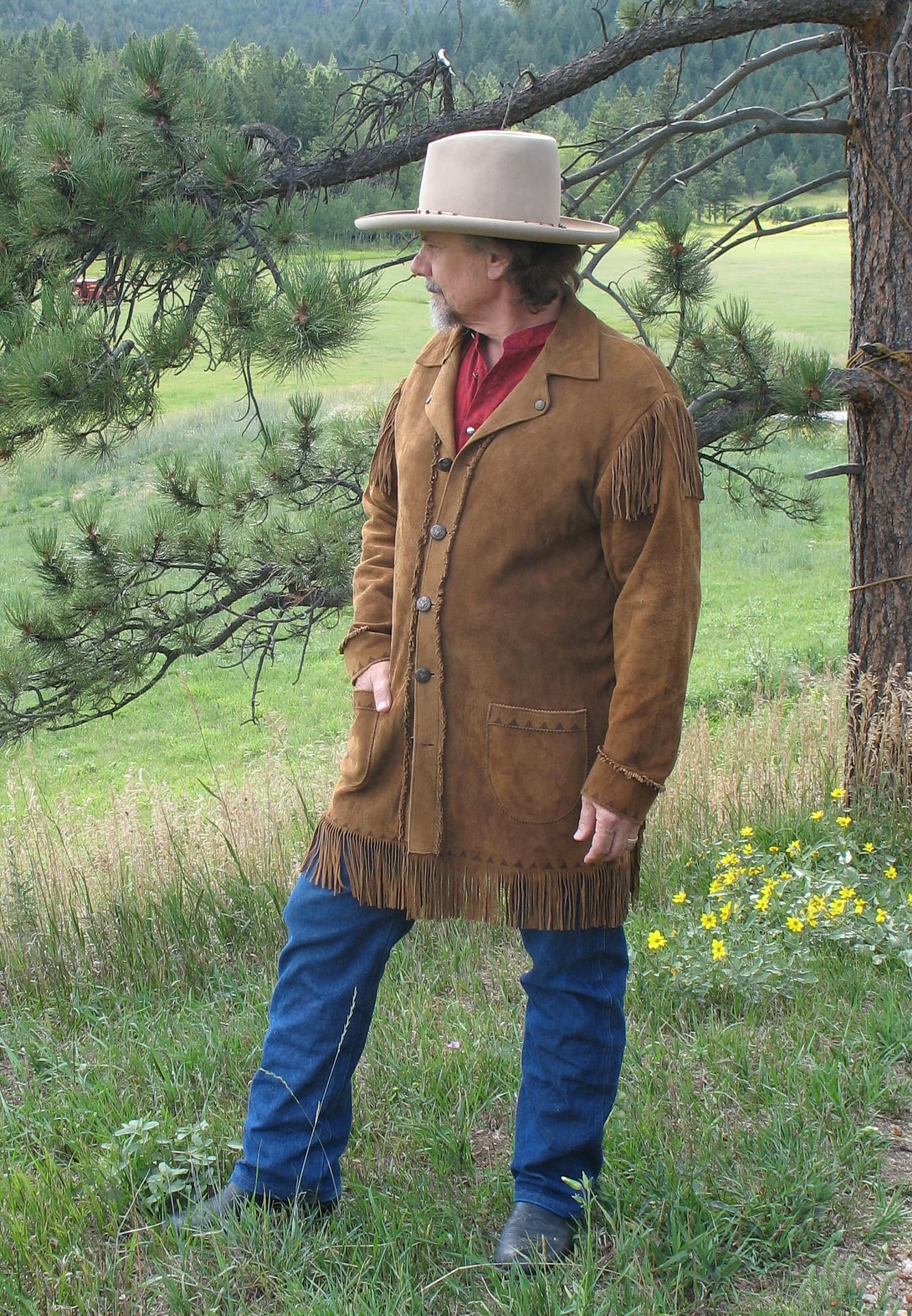 Mid-length Buckskin Coat
In the second half of the 1800's, a unique character could be found in the American West – the Scout. Kit Carson, Buffalo Bill, and Wild Bill Hickock are just a few of the most famous of these highly skilled and highly paid professionals. These men needed garments that were practical and durable, yet decorative, as they were known as much for their flashy way of dressing as for their bravery and adventures. Our medium length buckskin leather coats make just as strong an impression today as the ones worn by these legendary Scouts.
$995
Hand Painted Early American Frock Coat
This unique hand-painted early 1800's-style frock coat is dedicated to the intertwining of the cultures of the explorers, trappers, traders, and Native tribes of this period of the American West. In tribute to the Mountain Men who intermarried with Native American women, this coat is cut in the European style, but made of deerskin and hand-painted with decorations and patterns from both his culture and her own tribe. May we all be influenced to create beauty from our cultural differences. The original of this coat won the "Western Spirit Design" award at the 2018 Western Design Conference.
$2995