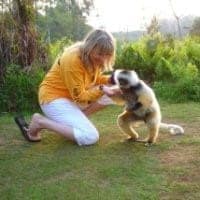 Barbara Arnett
Barbara Arnett Cashmere
Retail Row
Barbara Arnett
bbcchicago@msn.com
Artist Description
My pieces are all painted on incredibly soft, wonderful fabric. It is 70% the very highest grade of Nepalese cashmere and 30% silk. Some "summer weight" pieces are even lighter weight and are woven with 80% of the highest grade of cashmere and 20% silk. They are positively ethereal.
Everything is painted with our "secret formula" vegetable dyes on one side, hung to dry, and then painted on the other side. So everything is a 100%, top-to-bottom piece of very, very wearable art.
I have been doing this for 17 years and we just keep growing. I design everything and select all of the colors from our more than 800-color choices.